Premier Straight Wire Orthodontics Course
For General and Pediatric Dentists
Our Premier Course in Tulsa includes hands-on instruction in real orthodontics cases. You'll be guided by Dr. Williams, a respected GP Orthodontic Practitioner with over 30 years of experience.
The Premier Comprehensive Clinical Program offers advantages not found in other postgraduate, general practice orthodontic programs.
You'll be working with actual patients and following them through two years of treatment.
You'll receive a temporary Oklahoma license to practice in Dr. Williams' office.
You'll receive on-going support and case consultation with instructors throughout the program.
You'll receive a valuable source of CE hours at a reasonable cost.
Straight Wire manual included — Over 400 pages of the most current concepts in straight wire orthodontics.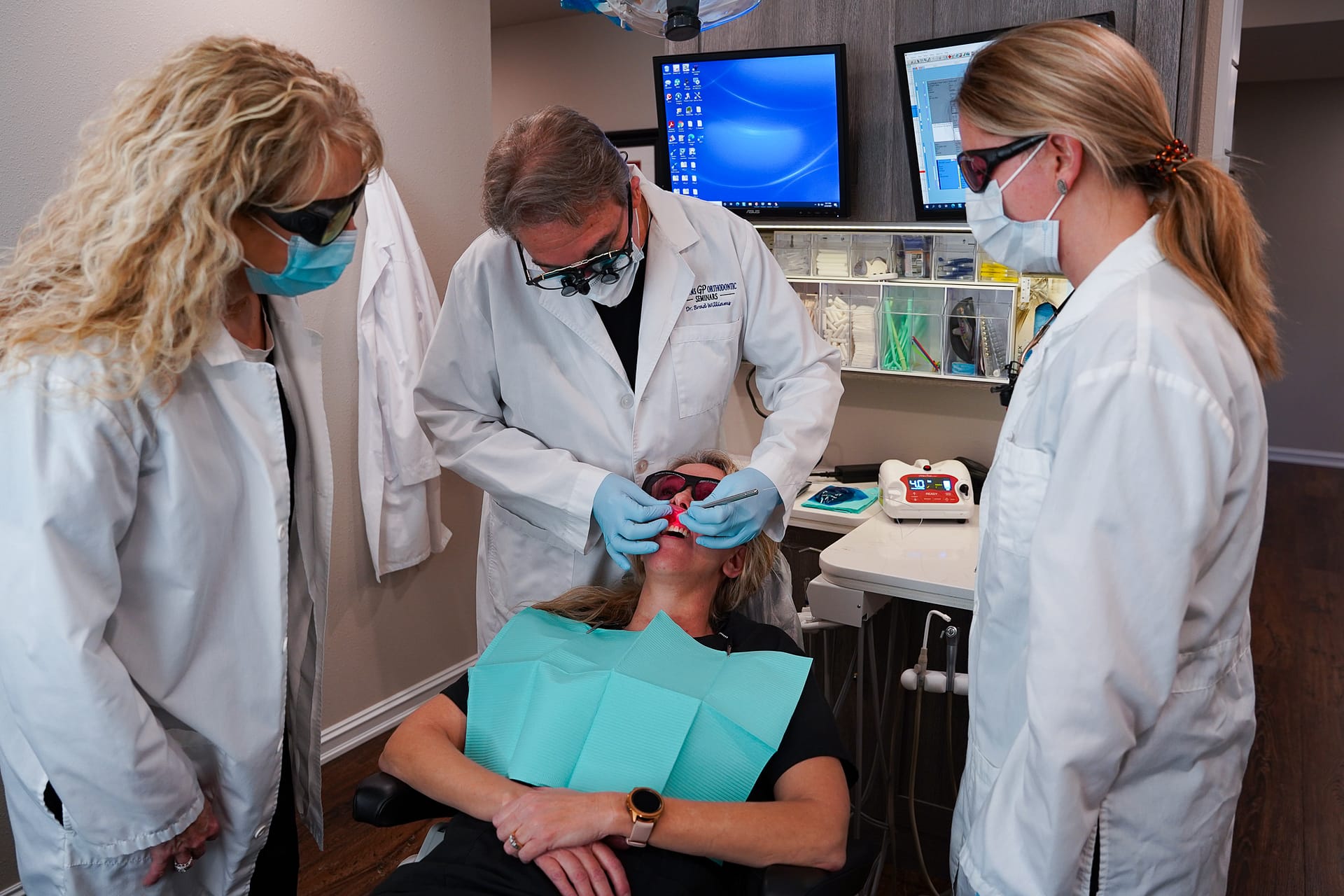 Course materials include: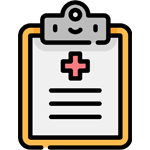 How to diagnose and treat Class-I and Class-II malocclusions
How to band and bracket teeth
Diagnostic records that align with orthodontic standards of care
The straight wire orthodontic appliance system
Basic cephalometric analysis, diagnosis, and treatment planning
How to practically incorporate orthodontics into your practice
The goal of this course is to prepare the student to successfully diagnose and treat Class I and simple Class II malocclusion patients and acquire competence in providing Fixed, Non-extraction Straight Wire Orthodontic treatment. At the end of this course, each student should be proficient in this basic orthodontic system.
THIS CLINICAL COURSE IS A 2-YEAR, 12-SESSION COURSE.
The 12 sessions will consist of:
6 sessions as first year participant - 196 hours of CE with full participation
6 sessions as second year monitor - 196 hours of CE with full participation
TOTAL 2 YEAR COURSE - 392 hours of CE with full participation
THE COURSE FEE IS LESS THAN $34 PER CE HOUR WITH FULL PARTICIPATION!
CE hours apply to the American Orthodontic Society (AOS) and the International Association for Orthodontics (IAO) Tier Advancement as well as the Academy of General Dentistry (AGD).
ON-LINE PORTION (FIRST YEAR PARTICIPANTS ONLY)
Must be COMPLETED before each session:
On-line lectures
Benchtop, hands-on exercises
This course component is provided on-line so participants will only need to be in person 2 days (Friday & Saturday) each of the 12 sessions. The on-line work will be made available well before each session and must be finished sometime prior to each 2-day in-person portion.
ON-LINE PORTION (SECOND YEAR MONITORS)
Should be REVIEWED before each session for CE:
On-line lectures
Benchtop exercises
The Premier Basic material covered in the first year will be a review the second year.
IN-PERSON PORTION
Each session will consist of:
Friday:
Review of the lectures and exercises the students finished on-line before arriving.
Treatment planning, diagnosing and review of the patient cases to be treated by participants in the Skiatook clinic on Saturday.
Review of any current cases students are treating in their practices and/or any new orthodontic cases they are considering for treatment.
Saturday:
Students treat orthodontic patients in clinic including making records for diagnosis; radiographs, photographs & scans including analysis, diagnosis & treatment planning.
Initial placement of orthodontic bands, brackets & wires on new patients
Servicing existing patients, currently in treatment.
Removing orthodontic appliances & delivery of retainers
As monitors, second year students will assist/mentor 1st year participants and participate "over-the-shoulder" in the clinic.
Dr. Williams is assisted by several Oklahoma licensed, orthodontically experienced dentists and assistants who supervise and aid participants as they treat orthodontic patients during the clinical day, each session.
Dr. Williams is dedicated to supporting his students and is always available to answer concerns by phone, text and email.
Bradford R. Williams, D.D.S.
Dr. Brad Williams is a 1982 Oklahoma University College of Dentistry graduate. He has practiced general dentistry for 35+ years and has been practicing GP orthodontics for 30+ years. He joined the AOS in 1983 and began using the Begg technique. Over time, he modified his technique from Begg to Tip-Edge and finally in 2004 to the straight wire system.
He incorporated treatment techniques using the Straight Wire System, lecturing and teaching with the late Dr. David Jackson for five years. He is a Diplomate and past board member of the AOS. Dr. Williams practices in Skiatook, Oklahoma, where his family has resided for over 70 years.
Susan is a Registered Dental Assistant with years of clinical experience in chairside orthodontics. She began her orthodontic career in an orthodontic specialist office, then moved into a GP office. Susan began to understand the difference between the two clinical settings. Still active in assisting doctors in multiple offices, she continues to learn and find creative new ways to guide doctors and assistants in their orthodontic practice.
Susan is blessed to be able to share her love and knowledge of orthodontics in continuing education courses with Dr. Brad Williams. She understands the importance of having empowered assistants and as a detail-oriented person, Susan will motivate her students to return to practice and effectively support their doctors in making orthodontics work in their offices.
INTRODUCTION TO STRAIGHT WIRE ORTHODONTICS
LECTURE
State of Oklahoma Dental Jurisprudence
The Practical Benefits of Incorporating Orthodontics into Your Practice
An Overview of This Course in Basic Orthodontics
Examples of Cases You Will Be Treating after This Course
Cephalometrics—Landmarks, Definitions, and Diagnosis
The Intro Cephalometric Analysis
Understanding the Straight Wire Orthodontic Appliance System
Understanding the Tip and Torque in the Straight Wire Bracket
Necessary Records for the Orthodontic Standard of Care
How to Band and Bracket Teeth
Diagnosing and Treatment Planning Your Cases
DEMONSTRATION
EXERCISES
Bracketing Anatomical Teeth - Learning the Effect of Bracket Positioning on the Teeth
Banding & Bracketing the Clear Typodont - Learning Correct Bracketing Positions
A total of 392 continuing education hours of credit may be earned. This is a 2-year, 12-session course consisting of 6 sessions (196 CE hours) as a first year participant and 6 sessions (196 CE hours) as a second year monitor.
A list of instruments students MUST purchase to perform the hands-on exercises will be provided upon registration confirmation. These instruments are standard orthodontic tools to be used in your clinical practice following the course.
Out-of-State Applicants: A doctor with no Oklahoma State Dental License will need to apply through Williams GP Orthodontics for a Temporary Volunteer State of Oklahoma Dental License. Registration deadline for an out-of-state doctor is September 15, 2023. A letter of good standing from the doctor's state board is required. Contact Williams GP Orthodontics at [email protected] for more information.
Upon conclusion of the 12-Session Comprehensive Clinical Orthodontic Program, you will have the opportunity to:
Attain knowledge & understanding of the Straight Wire Orthodontic Technique
Identify the malocclusion classification of the patient
Diagnose and develop a treatment plan for each individual case
Acquire an understanding of the variables affecting treatment & treatment outcome
Comprehensively follow a patient through treatment.
Gain proficiency in treating orthodontic malocclusions seen in your practice.
Our Goals for what you will learn and experience:
How to perform the In-Office Orthodontic Exam
How to take the "Standard of Care" orthodontic records in the office
Cephalometrics & Orthodontic diagnosis
Predictable orthodontic treatment planning
How to attain a high level of case acceptance with orthodontics
The financial side of orthodontics
The Straight Wire Orthodontic System
Hands-on exercises on typodonts
Treatment of actual orthodontic patients in a general practice setting
How to truly incorporate orthodontics into your office immediately
How to add a new, reliable, income stream to your practice
How to create an "exit strategy" from general or pediatric practice that allows you to "stay in the game" longer, continuing to enjoy practicing with less physical strain in later years
The study material for this course was peer-reviewed April 2019 to ensure that all clinical and technical information include a scientific basis for program content as well as an assessment of the benefits and risks associated with that content in order to promote public safety.
Neither Dr. Williams nor members of his immediate family have any financial relationships relevant to this presentation to disclose.
We are pleased to present flexible payment plans through Lending Club Solutions. Enjoy a selection of flexible plans with low fixed rates and monthly payments, no upfront payment, and no prepayment penalty.
It's easy to calculate your potential monthly payments. Simply complete a short application which displays fixed rates and monthly payments available for Extended Plans, all without impacting your credit score.
Williams GP Orthodontic Seminars is designated as an Approved PACE Program Provider by the Academy of General Dentistry.  The formal continuing education programs of this program provider are accepted by AGD for Fellowship, Mastership and membership maintenance credit.  Approval does not imply acceptance by a state or provincial board of dentistry or AGD endorsement. The current term of approval extends from 06/01/2022 through 05/31/2026. Provider ID# 392379